The Yurt at Screwball Ranch is NOT like most Yurts.
900 square feet with a fully equipped kitchen, 3/4 bath, and sleeping arrangements for 4 – 6 guests!
This yurt is large (over 900 square feet – including the loft) and contains a complete 3/4 bath, well equipped kitchen (propane range and oven, refrigerator, microwave, coffee maker, cooking utensils, etc.), open living area, wood stove, propane heater, solar electricity (generator backup), large deck, enclosed entryway, adequate storage  and skylight.
The yurt at Screwball Ranch comfortably sleeps four with two twin beds in the loft and two full sized futons in the living area.
Kids love lying their sleeping bags in front of the wood stove or even better yet – "setting up camp" on their own.  Ask to have the large 14′ X 17′ outfitter's wall tent in place for your week long stay.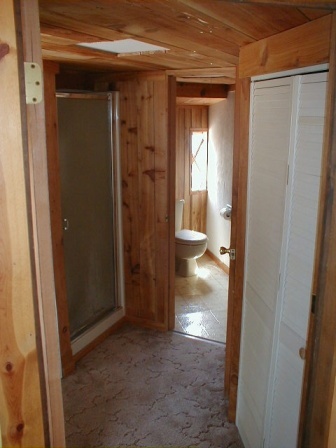 There is only one bath –but hey – for a yurt a toilet that flushes and shower is pretty classy!
The game table doubles as the dining room and there is plenty of storage area.
Open up the side windows in the summertime and let the mountain breeze cool your evenings or stoke up the wood burning stove and sip your favorite toddy on a cold, snowy winter afternoon.  The insulated real cedar walls and ceiling provide that added "mountain" atmosphere.
What are you waiting for? Your Colorado Retreat Awaits…